2 x 60, BBC 4 (2019)
Winner: Best Factual Series, RTS Southern Awards 2020
Nominated: Best History Programme, FOCAL International Awards 2020
Nominated: Best History Programme, RTS Programme Awards 2021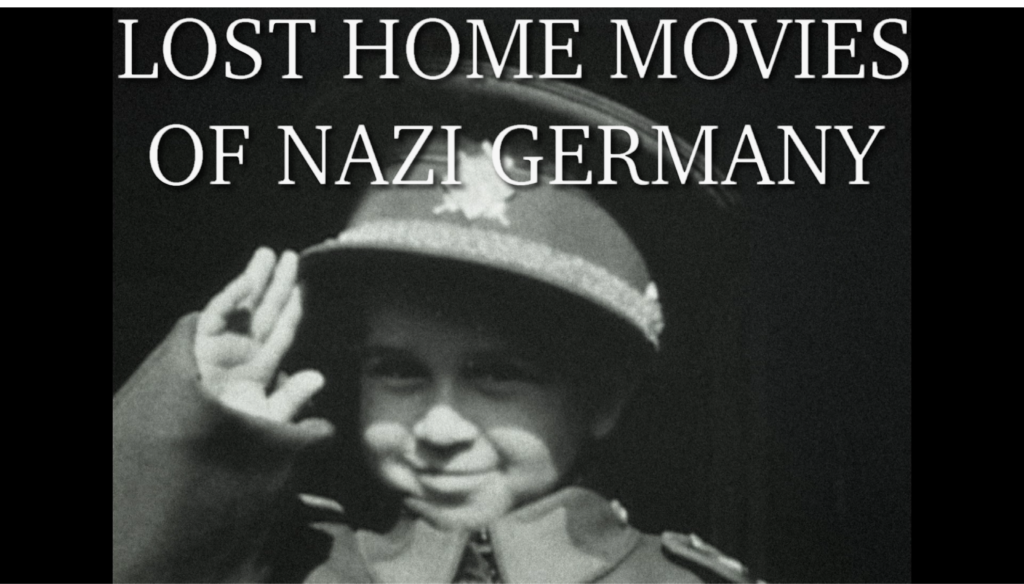 A candid look at what life was really like for those living in, and under Hitler's Swastika – at home – and abroad, a record not only of what they saw, but of what they knew.
EPISODE ONE: HUBRIS
Recently discovered home movie footage from 1936 offers a unique and novel insight into what people in Germany were thinking and experiencing. In these pre-war days, Germany was on a high and the Hitler Youth seemed like fun and games, but Nazi control was soon an all-pervading force, militarising the nation. The rise of anti-semitism is explicit and grotesque; shocking even with knowledge of what happens next. When war breaks out, the film follows an infantry division during the invasion of France, fighting their way to Dunkirk and revealing a new perspective on what the evacuation meant for the average German soldier. On the Eastern Front, a far darker and more visceral journey across the endless Russian steppe and the almost unimaginable horrors unleashed during Operation Barbarossa is captured by a soldier. As well as amateur movie footage the film charts the progress of the war through the diaries of ordinary Germans, some dizzy with excitement at what Hitler has achieved, others horrified by the effect it is having on their friends and families.
EPISODE TWO: NEMESIS
Christmas in Germany 1941 is an unsettling time. Food is scarce, the weather is freezing and news from the front line in Russia is causing Germans to realise the war is a very long way from over. The stage is set for the second half of the war, and through the home movies and diaries of ordinary Germans this film charts the crumbling of Hitler's dreams and the moral reckoning the German people must now face. It reveals the stories of people battling to save their families from deportation to the death camps while others endure the horrors of ever more deadly bombing raids, all set against a backdrop of propaganda and false hope pouring forth from Nazi high command. In Russia we meet a doctor who is throwing himself into the firing line at every opportunity not to win glory but to save his wife and three young children from deportation to the death camps in the East, while in Dresden a Jewish diary writer struggles to deal with ever-mounting restrictions and deportations. We also meet some of those forced to live under German rule, including extraordinary footage of a group of Jews living in hiding just a mile from Anne Frank, and a family in Normandy who are enjoying a bucolic summer before they find themselves on the front line as the Allies take on the German troops on the Atlantic Wall. The film then moves to the endgame of the war, the choices faced as the net tightens and the crazy efforts to fight to the bitter end even as all hope is gone.
CREDITS
Narrator
KATE HARDIE
Archive Research
DOROTHEE SCHNEIDER
Camera
SVEN KIESCHE
GEORGE LAYCOCK
JOHN TEMPLETON
Sound
MAXIMILIAN BARTUSCH
STUART WAREING
IAN WINDSOR
Executive Producer for ECO Media
THOMAS SCHUHBAUER
Researcher
ELLA MARSH
Production Assistants
JANINE SALES
MATTHEW COOPER
Edit Assistants
JOSH FLETCHER
ALFA GIWA
Music
HOWARD DAVIDSON
Additional Tracks
MOTUS MUSIC
Archive
LWL-MEDIENZENTRUM FÜR WESTFALEN
FOOTAGE FARM
US HOLOCAUST MEMORIAL MUSEUM,
GIFT OF GABRIELLE ROSBERGER
JEWISH HISTORICAL MUSEUM, AMSTERDAM
LA CAMERA STYLO
NORMANDIE IMAGES
BUNDESARCHIV, FILMARCHIV, BERLIN
TRANSIT FILM GMBH
AKH AGENTUR KARL HÖFFKES
CRITICAL PAST
NARA
NATIONAL ARCHIVES
FILMKONTOR CASTAN
SPIEGEL TV
HELDEN DER GESCHICHTE
FRAMEPOOL
DEUTSCHE FOTOTHEK
KULTUR & GESCHICHTSKONTOR HAMBURG
BOOKS ON DEMAND
AUFBAU VERLANG GMBH
Readings
ALEXIS RODNEY
RICHARD EASTERBROOK
GREG COX
Colourist
ANDREW CLOKE
On-line Editor
YIORGOS LOIZOU / BARRY PEASE
Dubbing Mixer
BOB JACKSON
BBC Commissioning Editors
SIMON YOUNG
SREYA BISWAS
Film Editor
RICHARD ATHERTON / MILES GREEN
Producer
FREYA EDEN-ELLIS
Executive Producer
AARON YOUNG
Directed by
NICK WATTS
MARTIN DAVIDSON