Bright Button Productions is proud of its strong track record working in the educational sector, producing films that appeal to the youngest of viewers all the way through to adult and life-long learning audiences. Working with organisations such as BBC Bitesize, The Heritage Lottery Fund and the Chalke Valley History Trust our aim has always been to produce quality content that has clear purpose but doesn't feel like homework.
Here is a selection of our wor – all free and available as educational resources:
ISLA AND CONNOR EXPLORE
BBC Learning Scotland (2020 – present)
1x series | 15 episodes

FACAIL A' FLEODRADH
BBC Learning Scotland Alba (2020 – present)
1x series | 4 titles 

WORD WAVES
BBC Learning Scotland (2018 – 2020)
3x series | 22 titles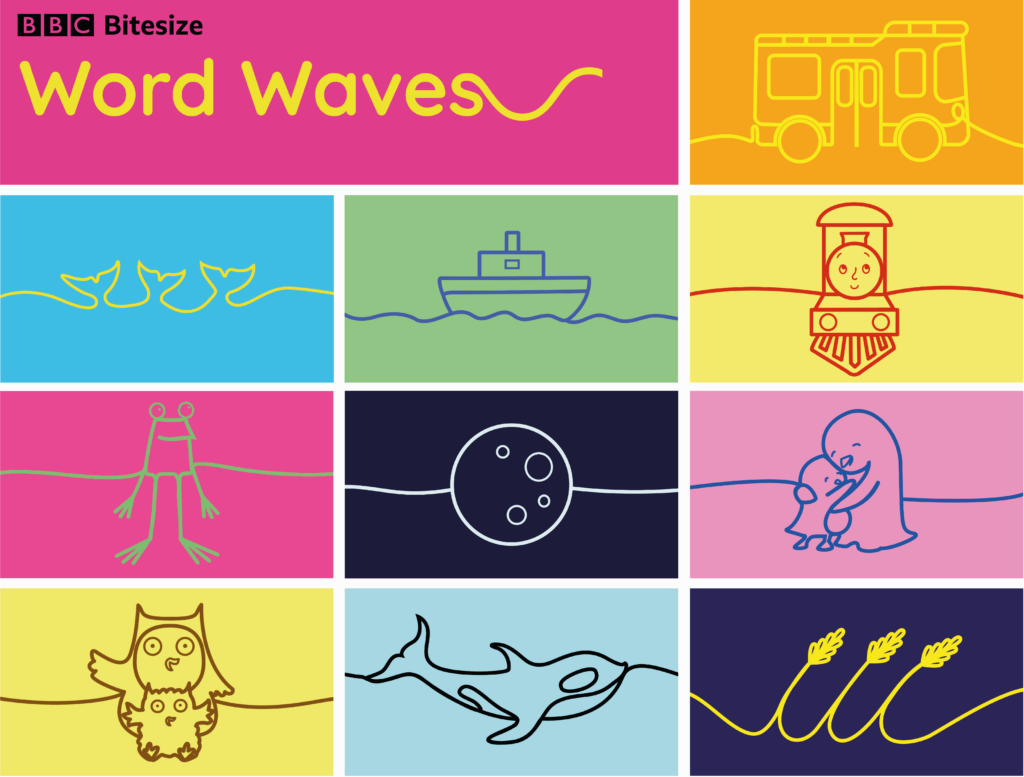 WHY DO WE HAVE SO MUCH STUFF?
BBC Ideas (2019)
Modern life just seems to be full of… well, stuff! But why do we have so much of it?
PROUD TO BE…
BBC Bitesize: KS1 History (2015)
1/8 ARCHAEOLOGIST
Schoolgirl Fayth meets archaeologist Pauline Carroll on the site of an archaeological dig in Oxfordshire.
2/8 ARCHITECT
Schoolgirl Jenna interviews architect Arthur Timothy at Hay's Galleria in London – a building he designed.
3/8 DOCTOR
Schoolboy Lakshya visits the Edinburgh Royal Infirmary to interview Dr. Dave Caesar about his job.
4/8 INVENTOR
Schoolgirl Ella interviews inventor Ben Board about his invention of an inflatable tube to save lives at sea.
5/8 PILOT
Schoolgirl Ayesha meets pilot Rob Billington at Brighton City Airport to learn about what it takes to become a pilot.
6/8 POTTER
Schoolboy Ben meets potter Caitlin Jenkins at her studio in south Wales, to find out more about her job. Pottery has been made in the town of Ewenny since at least the 1400s, because of the clay found there.
7/8 SPORTSPERSON
Schoolboy Oscar meets Paralympic gold medallist Helena Lucas, to find out about her job as a competitive sailor.
8/8 BONUS REEL
A compilation of interesting and insightful material that didn't make it into the final seven films. Note: edited but ungraded or mixed.
THE CHALKE VALLEY HISTORY SHOW
Chalke Valley History Festivals 2020
HISTORY HUB
Chalke Valley History Trust (2013)
A DAY IN THE TRENCHES
France, 1916. The Battle of the Somme is in its last days as we get a glimpse into what daily life is like for British forces in the frontline trenches.
WHY THE TUDORS MATTER
Suzannah Lipscomb argues that the Tudors are the generation that define who we are today.
WWII KIT COMPARISON
James Holland argues that success in the Second World War hinged not only on what kit each side had available to them but also with how they used it.
CHARLIE HIGSON: THE FEAR
BBC Bitesize: KS3 English (2017)
Charlie Higson, creator and star of 'The Fast Show' is the author of the bestselling 'Young Bond' books and the successful horror series 'The Enemy'. Here, Charlie shares his tips and tricks for writing a chart-topping story.
1/4 GETTING STARTED
Charlie tackles the nemesis of actually getting started; from just making stuff up or using computer games for inspiration to stealing other people's stories Charlie mostly recommends that you 'get on the bike and start pedalling'.
2/4 DEVELOPING CHARACTERS
Charlie considers character development and how tapping into the psychology of a monster, or understanding the humanity of a villain creates an air of mystery around a character making them more interesting, intriguing and real in your own mind as the writer.
3/4 CREATING A VILLAIN
4/4 PUNCTUATION
Charlie explores how to use punctuation effectively but also the importance in letting go of the 'am I doing this correctly?' niggle in the back of your mind.
BROADMAYNE 1944
Heritage Lottery Fund (2015)
BROADMAYNE: THE DAYS BEFORE D-DAY
One Dorset village reflects on the period of the war before D-Day when they played host to thousands of American soldiers stationed there in a marshalling camp.
BROADMAYNE D5: THE RETURN TO 1944
The village commemorates the 70th D-Day anniversary by turning back the clock to 1944.
BU/CVHF MEDIA
Chalke Valley History Festivals & Bournemouth University (2016 – 2019)
WORDS AND MUSIC
BBC Bitesize: KS3 English (2015)
DOUBLE S: ANALYSING CONTEMPORARY LITERATURE
Grime MC and Rapper, Double S, searches meaning in the character of JK Rowling's Harry Potter.
JEM COOKE: SCRIPTWRITING
Singer-songwriter Jem Cooke talks us through how scriptwriting is a key part of filming a performance.
DOUBLE S: ARGUMENT AND DISCUSSION
Grime MC and Rapper, Double S, demonstrates the qualities needed to be successful in a debate.
PICKERING WHITE: STAGECRAFT
Two singers discuss how staging can set a tone and affect the audience in different ways.
JEM COOKE: SENTENCE STRUCTURE
Jem demonstrates how structuring a sentence can impact upon tone and meaning.
JEM COOKE: POETRY PERFORMANCE
Jem discusses how performance techniques affect her song 'Stranger Things'.
POUNDBURY TECHNOLOGY TOURNAMENT 2019
Poundbury Rotary Club / The Thomas Hardye School
Schools from across Dorset compete to be crowned technology champions.
CASTLETOWN
Castletown D-Day Centre (2016)
CASTLETOWN 1944: THE PEOPLE REMEMBER
CASTLETOWN VOICES
Wartime residents of Castletown remember their experiences in these six short vignettes.
BUILDING AND CATERING
BBC Bitesize: Functional Skills Maths (2016)
These videos form part of the BBC's Functional Skills series, aimed at adult learners using everyday maths in real life contexts.
1/11 CATERING: CONTEXT
2/11 BEEF
3/11 SCALING
4/11 TRAY BAKE
5/11 TOMATO TINS
6/11 CASHING UP
7/11 BRICK BONDS
8/11 CONCRETE
9/11 PATIO SLABS
10/11 PAYSLIP
11/11 ROOF TRUSSES
PILOT DEMONSTRATIONS
BBC Bitesize: 11-14 Maths and English (2017)
DRAFTING TEXT: WILFRED OWEN – ANTHEM FOR DOOMED YOUTH
AT THE VETS: VOCATIONAL MATHS TASK